OUR SERVICES
We are a locally owned and operated mold, water, and fire damage restoration company servicing all of the Big Island of Hawaii, from Kona to Hilo. Our services also include odor removal, HVAC sanitizing as well as a complete disinfecting and ozone treatment process to eliminate mold, viruses and other pathogens. Unlike other restoration companies, we evaluate and remove any toxic mold growth and ensure safe indoor air quality. Your family's health and safety is our top priority, and our certified and highly-trained restoration specialists will return your property to its original condition.
Big Island Mold Removal Experts
Exposure to mold can cause adverse health effects. Since mold is made of tiny spores, it's crucial to not let it linger in your home or business. If you suspect you have a mold problem, don't hesitate to get a professional mold evaluation. Swift assessment and remediation of any mold growth is required before it has a chance to spread to other areas or cause health issues for you and your family.
Note:  As part of our COVID-19 disinfecting process we also provide an Ozone treatment which is highly effective against COVID-19 as discussed here https://scitechdaily.com/covid-19-ozone-proved-to-be-highly-efficient-in-effective-in-disinfecting-coronavirus.
The health and safety of your family is always our top concern. We use the latest diagnostic and remediation equipment to assess potential mold infestations and ensure safe indoor air quality.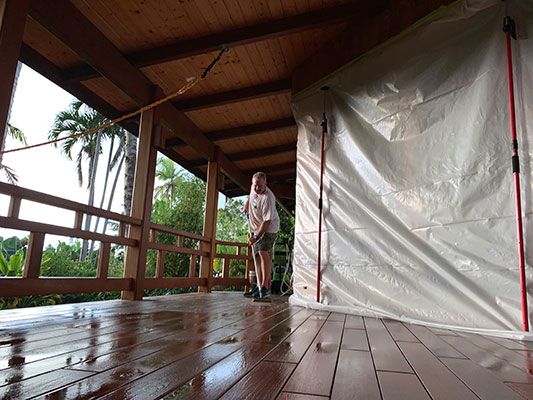 Testimonial
"These guys are amazing!!!! Super professional, entire crew is in and out very fast, they know what they're doing and they're so friendly! I would recommend them to anyone, and I talked with Sherri and Bill and they were super informative and easy to work with.  I feel so much better knowing I'm not breathing in mold anymore. Mahalo you guys!!!!"   (Yelp Review – 7/19/2020)
Testimonial
"My wife and I hired Bill and the Mold Doctors to remediate a leak in our 2nd level Ohana. Upon initial contact Bill and his wife responded immediately, came to our house, did an inspection, and within a day had a quote, with a detailed breakdown of costs. We accepted his bid and within a day his crew was out. Jason, the foreman was very professional and personable. The crew was excellent, very easy-going, yet obviously experts at this line of work. Bill checked in to supervise the work, and though he had numerous projects going at the same time, he made us feel we were valued customers. He kept us informed of the status of the job, and always texted to give us notice when the crew would be on site. The prices were very reasonable, and the work was first class. Not only that, but he educated us on the issues on the Big Island with leaks and mold, and mold remediation in general. It can be difficult to find good people to handle the myriad of issues that crop up in owning a house here. Bill and the Mold Doctors are definitely good people."  (Yelp Review – 06/29/2020)
Testimonial
"I have been on furlough since the end of April and haven't really been driving. I have been starting my car once a week to make sure it stays running. This week I opened my car and mold way all over my seats, mats, steering wheel, and who knows where else. I called these guys up and they came and took a look. The next day they were able to treat it. When I got it back there was no sign of mold and everything looked very clean. My floor mats look new. Would definitely use their awesome service again."  (Yelp Review – 06/13/2020)
Testimonial
"I had damage to my ceiling and walls from heavy rains and The Mold Doctors did a great clean up and remediation. They were on time, friendly, skilled and accommodating. On the Big Island it can be hard to get contractors to return your call, these guys are the opposite, professional and experienced. I will use them for other remodeling projects."  (Yelp Review – 04/17/2020)
Testimonial
"The Mold Doctors are very professional and their work was organized, thorough and well done. They cleaned mold off places that were beyond our expectation. They always informed us on their arrival and their departure. We would use them again. H. Honda"  (Yelp Review – 04/01/2020)
Testimonial
"The Mold Doctors were very professional, thorough, and went above and beyond to handle a recent mold issue in our kitchen, including helping us with the required remodel. replaVery positive attitude and pleasant to work with. Would definitelyuse them again."  (Yelp Review – 02/13/2020)
Testimonial
"We moved to Waimea a few months  ago and have been  struggling with some  recurring mildew.  We saw the free inspection offer and emailed that morning.  We got a return phone call within a couple hours and  the team was  out the next  day. We learned  a lot and would highly recommend them!" (Yelp Review – 12/05/2019)
Testimonial
"We had a pretty bad roof/ceiling leak in our office due to the heavy rain recently. We had to put a bucket on the floor to catch the drips, and had several ceiling tiles get water damaged. We thought we might have a mold issue in our ceiling somewhere, so we called the Mold Dr's. They showed up quickly and did a free evaluation. They used some high-tech gear to check for any possible issues. Luckily we we didn't have any mold. I guess we caught it in time to air it out. The Mold Dr guys were very professional and knowledgeable. Would definitely call them again if we get a leak."  (Yelp Review – 12/05/19)
Testimonial
"We have a definite mold problem. Some of it is due to high humidity and poor airflow in the home. But the remainder is coming straight from the ceiling, which can only be related to the replacement of our old (leaking) roof. Enter, the Mold Doctors. They provided a free assessment. From the start, Bill and his team left an excellent impression. They were timely, professional (yet still warm and approachable) and clearly knowledgeable about their trade. Communication before, during, and even after the initial assessment was easy and open.  In fact, in my experience they really went above and beyond. If they end up doing the proposed work on our place, I'm confident that they'll do an excellent job."  (Yelp Review – 11/23/2019)
MEET THE MOLD DOCTORS
The safety and health of your family and employees is always our top priority throughout the restoration process. We provide swift 24/7 service with ALOHA. Contact us for evaluations, estimates and advice.
WE RESTORE YOUR
PEACE OF MIND
We know how stressful it can be to have a mold, water, or fire damage emergency. Our mission is to be there to fix your problem and restore your property like it never happened. We're here for you when you need us most, and provide professional and quality care every time.